May 28th, 2020 by Brandon Peters
One of the best archival efforts going on with Scream Factory the past year has been their Universal Horror Collection series. Now hitting Volume 5, with Volume 6 already announced, they are highlighting and saving four horror titles from the Universal vaults that aren't quite as well known as the standard Classic Monsters fare. Usually there will be a theme to it, or sometimes it feels a film would be picked up because of an actor associated with horror. This fifth volume feels like a fresh new lot as it showcases a more ape/jungle type theme with the films involved. A closer look finds a standalone film that closely relates to a trilogy within the set. The "Cheena, The Ape Woman" films all are included here. Not familiar with them, I'm excited to be introduced. One of them has never been on DVD or Blu-ray before and the others have only just recently had Universal DVDs in the last 5 years, or been subject to those bargain bin and 100-Sci Fi Films collections which aren't known for having the best of transfers. You can pre-order the set to have when it becomes available on June 16th!
The Monster And The Girl (1941)
A small-town church organist named Scot Webster (Philip Terry) attempts to save his sister, Susan (Ellen Drew) from the clutches of big city gangster W. S. Bruhl (Paul Lukas). When one of Bruhl's gang members is double-crossed in Bruhl's rented room, and killed by a gunman, the man tosses him the gun and disappears. Scot is tried and executed. A scientist (George Zucco) salvages his brain and transplants it into a gorilla. Using the strength of his new, bestial body, Webster begins stalking the gangsters to exact his revenge.
Within The Monster and the Girl lies an idea that would find itself being used in one of the more famous Universal Classic Monster movies in The Ghost of Frankenstein a year later. Whereas that movie dealt in transferring a human's brain into Frankenstein's monster, this one had a man's brain being transplanted into a gorilla. The film does pretty well with it, smart enough to keep the limitations of the animal while enhancing its motivations and agenda.
The film is a unique spin on the revenge story. A man sentenced to death, at the zero hour chooses a wild scientific experiment to hopefully keep him alive. As a gorilla he then goes after those that wronged him and murders them one by one. Once we get to the ape stuff, it starts cooking a bit more, in the first hour or so of the film we are treated to a court case with flashbacks and the like that start interesting but begin to fade. Overall, the film is barely an hour and works well enough to never be not interesting.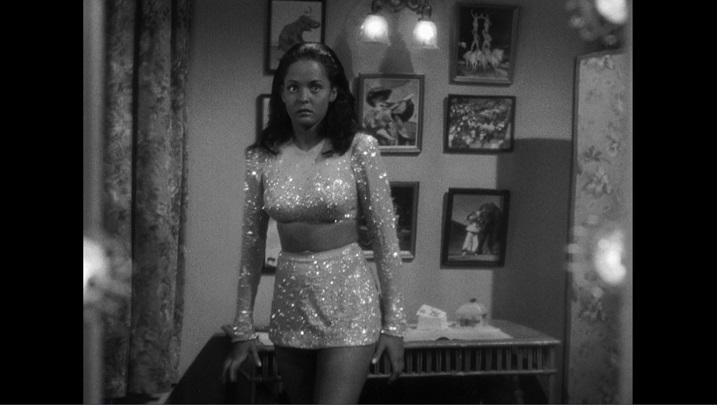 Captive Wild Woman (1943)
An insane scientist (John Carradine) doing experimentation in glandular research becomes obsessed with transforming a female gorilla into a human…even though it costs human life.
Thus begins our journey through the trilogy in this boxed set. Its an interesting new spin on the mad scientist genre, popular and ongoing at this time. The film introduces us to Paula Dupree, the headlining character of these Cheena, The Ape woman movies. I have no idea why they call it that when her name is Paula, but oh well. She's played in quite captivating fashion by an actor simply known as Acquanetta.
Our mad scientist is deliciously played by a devious John Carradine. He takes pleasure in a balance of serious and camp that carries a credibility to his "science stuff" and experimentation scenes. What's interesting about this film and counter to the previous one in the set is we see an ape relegated into a human form instead of the potentially obvious person transforming into an ape or getting ape abilities. Its plays for some fun dynamics and character development.
Captive Wild Woman features a lot of circus action as the film revolves around tigers and lions. Much of it is through either stock or what I'm guessing was that eras version of second unit footage. Its plenty obvious its not happening with our actors or possibly on some of the same sets, but its cut in decently and works effectively enough. Overall, a solid very B picture.
Jungle Woman (1944)
Paula the ape woman (Acquanetta) is alive and well, and running around a creepy old sanitarium run by the kindly Dr. Fletcher (J. Carrol Naish), also reverting to her true gorilla form every once in a while to kill somebody.
Its pretty cool to see, in the 1940s, a female character receive the likes of a sequel or a series. Most of it follow boy monsters or boy heroes onward. And the face they have the same actor reprising the role is wonderful too. This more or less picks up on where Paula was after the previous film and gives here a bit more to do. Its a werewolf type person, but in the primal ape transformation instead.
Where Jungle Woman falters, is in a bit too much flash backing and feeling like its using too much older footage or doing exact similar stuff to the prior film. It starts off with some nice intrigue, but sort of loses you and never really gains you back. Though, I will say, the second half is pretty a pretty solid "I know something they don't" mystery where the suspense is more in fearing the villain being caught than figuring out who is doing it. Of the films leading up to this point, it feels the weakest, but at barely 60 minutes, it still has enough merits to warrant a curious run through it.
The Jungle Captive (1945)
Once again, Paula Dupree (Vicky Lane), the Ape Woman, is brought back to life, this time by a mad scientist and his disfigured assistant, who also kidnaps his female lab assistant in order to have a female blood donor. By this time, Paula has brain damage from her experiences in the last film, so there's not much for her to do except wander around.
Well, considering she died in the previous film, how would Paula come about again? Oh, silly me, this series deals in mad scientists! This third film deals with resurrecting the ape woman after being stolen from the morgue and trying to return her to a human form. Its more experiment and science heavy, but it stands out and brings a bit of a different energy and plot than the other films to hold its own. Clever enough, Paula starts as ape until about 40 minutes in and when she's transformed back into a a different actor than the previous 2 films. It kinda gives you time to just relish in the transformation and be accepting of this change.
Contributing to the worthiness of these Universal Classic Horror sets, Rondo Hatton makes his second appearance in a film on these. Its a much more human role for him and he's quite good and always commanding of the frame time hes given. The mad scientist here is pretty good and the change in Paul actor is actually pretty good as well. Overall, the film is almost a bottle episode-like film, but has enough going on with interesting performers to keep it fun enough and entertaining through another short 60 minutes.
Video
Encoding: MPEG-4 AVC
Resolution: 1080p
Aspect Ratio: 1.37:1
Layers: BD-50 (4 Discs)
The Monster And The Girl
Clarity/Detail: The Monster and The Girl finds itself on Blu-ray for the first time with a 2K scan of a fine grain film element. The results have a nice, pretty noir look to the film. It features some good shading and impressive details with a nice, well rounded looking image.
Depth: This is a very dark movie but many of the interiors showcase some good spacing and distance variations in the objects and humans that encompass the frame. Movements are cinematic and natural with no issues regarding jitter or blur.
Black Levels: Blacks are quite deep, near a natural level. They provide good shading and shadow work and inhabit a pretty impressive amount of detail in its darkest corners. No crushing witnessed.
Color Reproduction:  N/A (Black & White)
Flesh Tones: Skin tones carry a white/gray look that manages a consistency from start to finish. Facial features and textures how best in close ups, but some medium shots have plenty to offer.
Noise/Artifacts: Clean
Captive Wild Woman
Clarity/Detail: Captive Wild Woman debuts on Blu-ray, but nothing is provided regarding the transfer. One could assume it is just a standard HD master. Overall, this is a sharp, and brighter image that has its share of good strong visible detail and texture. The film includes a lot of stock footage of varying degrees of quality that carries scratches and other print damage. Overall the fil doe have some specs and dirt with a good regular appearance.
Depth: This one lies nicely a little above average with solid spacing and smooth, cinematic movements with the actors and animals on screen.
Black Levels: Blacks are deep and are pretty consuming when in the darkest shadows. There are some instances of crush and it does have a touch time on shadows on cheeks, moreso showcased in closer medium shots.
Color Reproduction:  N/A (Black & White)
Flesh Tones: Skin tones have a solid white/gray for skin tones start to finish, at times having some flicker, but that depends on the quality of the scene tat the time. Textures and facial features are pretty solid in most medium and close up shots.
Noise/Artifacts: There are some instances with some noise from time to time, but nothing overbearing or constant throughout the film.
Jungle Woman
Clarity/Detail: Jungle Woman's Blu-ray debut comes courtesy of a 2K scan of a fine grain film element. Its a bit brighter of a film, but it has a much similar look to Monster, It features a nice healthy layer of grain and detail. You can see that its such a boost from the last movie merely by seeing the actors the movie shares with better resolution.
Depth: There is some good depth of field on display here, primarily in good shot interior sequences in the film. There is a nice, easy separation of foreground and background. Character movements are cinematic and smooth with no motion issues.
Black Levels: Black levels are gorgeous and have a natural feel to them, matching that of the mattes on the side. Some details do find themselves hidden, but many a pattern or texture stands out, especially on Acquanetta's hair. No crushing issues witnesed.
Color Reproduction:  N/A
Flesh Tones: Skin tones carry the same gray/white we've seen thus far in these movies, however this one does seem to have more finer facial texture and feature details.
Noise/Artifacts: Clean
The Jungle Captive
Clarity/Detail: The Jungle Captive debuts on blu-ray with a new 2K scan of a fine grain film element. Hate to repeat myself, but this picture in its best moments of the print look like Monster and Jungle Woman. The print is in a little bit tougher condition, but its overall still charming in its appearance.
Depth: Again, solid depth work on par with the 2K mastered ones. Characters feel front and separate from the background and move smoothly and cinematic.
Black Levels: Blacks are quite deep, natural-like, matching the mattes and find some great noir-like capabilities. Some information is lost, but that could be part of the sourcing, but many a texture and pattern plenty visible as well. No crushing witnessed.
Color Reproduction:  N/A (Black & White)
Flesh Tones: Again, they carry the nice gray/white, beautiful in the shadows look to them. Facial features and textures rival that of Jungle Woman's transfer.
Noise/Artifacts: Clean
Audio
Audio Format(s): English 2.0 Mono DTS-HD MA
Subtitles: English
The Monster And The Girl
Dynamics: The mono track here has a faint analog hiss to it as a base layer, but sounds of your typical old 40s film with money. Not really big on the deep end, but everything is woven and balanced quite well, with the music bolstering more of the impact moments. All in all, its a track that'll do the trick.
Height: N/A
Low-Frequency Extension: N/A
Surround Sound Presentation: N/A
Dialogue Reproduction: Vocals are clear and run into no analog peaking issues, coming with the faint hiss.
Captive Wild Woman
Dynamics: Captive Wild Woman's mono track is a pretty loud and clear one. It features some really good, deep rumbles from both animal roars and the score. Everything is plenty well balanced and there doesn't seem to be much of an analog hiss overbearing in the mix.
Height: N/A
Low-Frequency Extension: N/A
Surround Sound Presentation: N/A
Dialogue Reproduction: Vocals are clear and plenty audible throughout, sounding good no matter the intensity of the score or action.
Jungle Woman
Dynamics: Jungle Woman features a pretty nice, loud and involved mono track. The vocals have a good constant flux to them as the effect and score hit plenty of deep notches and really give a nice engaging impact overall.
Height: N/A
Low-Frequency Extension: N/A
Surround Sound Presentation: N/A
Dialogue Reproduction: Vocals are loud and clear, with a very nice analog sourcing sound to them.
The Jungle Captive
Dynamics: Jungle Captive's mono track has enough to…ahem…captive your viewing (Thank you). The mix is plenty well balanced, loud and engaging. The score gets some good attention here and the effects have pretty good layering and depth here to involve and improve the viewing.
Height: N/A
Low-Frequency Extension: N/A
Surround Sound Presentation: N/A
Dialogue Reproduction: Good, clean analog sounding vocals with good volume in the mix.
Extras
Universal Horror Collection: Volume 5 is a 4-Blu-ray disc set with each film presented on its own disc. This set also includes a short insert booklet that features some notes and marketing images/posters for the films.
The Monster And The Girl
Audio Commentary
With film historians Tom Weaver and Steve Kronenberg
Captive Wild Woman
Audio Commentary
With film historian/author Tom Weaver
Theatrical Trailer (HD, 1:07)
Still Gallery (HD, 1:56)
Jungle Woman
Audio Commentary
With film historian Gregory William Mank
Image Gallery (HD, 2:31)
The Jungle Captive
Audio Commentary
By film historian Scott Gallinghouse
Trailer (HD, 1:10)
Summary
An interesting set for sure, and one that really stands out from the pack released so far in the Universal Horror Collection series, Volume 5 still has a direct theme and films that all feel they go together. The overall strength of the films may vary from person to person, but these are indeed worthy films to get a Blu-ray jump for sure. Scream Factory once again has them all looking and sound pretty much their best and has new commentaries for all of them. This series continues on and continues to be worth a spot on your shelf.
This is a paid Amazon Associates link