May 7th, 2020 by Brandon Peters
For the past year and a half or so, Scream Factory has been enriching their catalog and filling a nice void in the US Blu-ray system with many Hammer Horror releases. Some newbies and plenty of upgrades to bring the horror collectors up to speed. The Curse Of The Werewolf was once release here stateside as a part of a Hammer 8-Film Collection from Universal Studios. Here, its getting a new 4K scan and a few new bonus features to go with some quality previously released material. This was released back in April, but due to the COVID-19 pandemic, my review copy was sitting on hold, finally arriving this week. Nonetheless, I'm still as always, excited to dig into quality new Hammer Horror films on Blu-ray. I've also done a comparison to the previous release of the film that you can find by CLICKING HERE. You can order yourself a copy (Available now) by using the Amazon Associates link that follows the review.
Film
A man with brutal and macabre origins, Leon Corledo (Oliver Reed) was raised in the home of Don Alfredo Corledo (Clifford Evans), his kind and loving adopted father. When he leaves Don Alfredo to find work, Leon discovers that he has increasingly violent urges. Although these tendencies are calmed by Leon's love for the beautiful Christina (Catherine Feller), he ultimately cannot contain his curse and transforms into a werewolf, terrorizing the Spanish countryside.
The Curse Of The Werewolf was Hammer's first foray into doing a werewolf film after tackling plenty of classic monsters prior. It also notably marks the breakout of Oliver Reed and his venture into becoming a reliable leading man in genre films. Personally I've never been quite enamored with this film, both in terms of Hammer and in the pantheon of werewolf movies. It does deliver the goods, giving you the Hammer goods with good period sets/costumes, blood, make-up effects and good acting. The film just falls short on its script level and by the time it kicks into gear there's not enough and its too late.
Terence Fisher is the premiere Hammer director and kicked off many of the monsters we know today and he does good in making Oliver Reed synonymous with being an iconic werewolf as he did with Christopher Lee and Peter Cushing in their roles. I'm all for a patient film, but this one takes too damn long to get to the story it actually wants to tell, which then makes us wait even longer for getting the groovy werewolf stuff. The fist half or more of this movie is buried in exposition. We spend far too much time following our lead's father's journey and then too much more time with the child version of Lyon afterward before finally landing at him arriving in town. And then its even longer after that to get to the wolf. Someone, somewhere should have whipped the first half up into a shorter act.
Oliver Reed goes for broke here in the film. Its a shame we done see him until about 45 minutes in. The man both delivers a performance of the tragic and the outrageous. There is no fear in the man as he gives his all physically and throws himself all over the sets and bounces about the frames. And in wolf make-up it comes even more together. The surrounding performers are quite solid too, with Yvonne Romain giving a pretty impressive mute performance. And 007 fans should look for their favorite quartermaster, as Desmond Llewelyn can be seen in the early goings of the movie.
As a classic monster enthusiast, I can still easily enjoy and check out The Curse Of The Werewolf, but when it comes to classic lycan movies, it falls very short of making my favorites. Its a little too much like Lyon's father stuck in a cage for too long. Funny enough, I recently saw The Legend of The Werewolf from 1975 for the first time last year and it was oddly VERY similar to this, but had the structure and pace this one could have had. Regardless off the narrative/structure qualms I have, the details all end up pretty strong and do give it plenty of merit at the end of the day.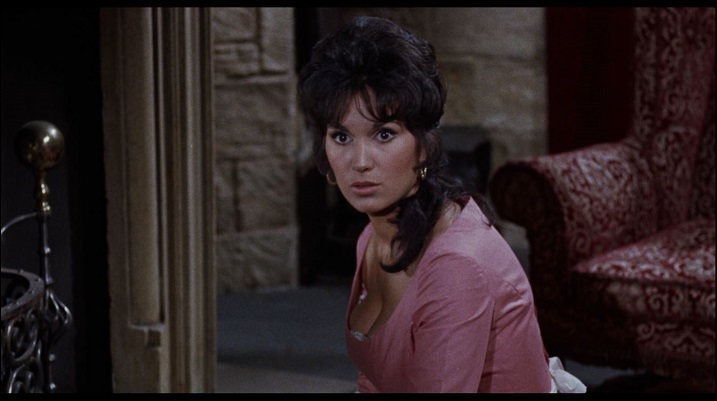 Video
For a comparison of how this release of The Curse Of The Werewolf compares to the 2016 Hammer Horror 8-Film Collection version, CLICK HERE.
Encoding: MPEG-4 AVC
Resolution: 1080p
Aspect Ratio: 1.85:1
Layers: BD-50
Clarity/Detail: The Curse Of The Werewolf comes to Scream Factory Blu-ray with a beautiful new 4K transfer from an interpositive featuring 1.85:1 framing. It has a nice lovely technicolor sheen to it. Details, textures and patterns are all quite clear and discernible. Grain looks to be healthily kept in tact and a fine compliment to it. Colors are likely one of the most lovely factors in the image. Overall, this feels like a nice improvement over the Universal release.
Depth: Depth of field is quite solid and really apparent with a good dimensional feel in the interiors. Pushback and spacing of objects and characters come through with a nice sense of confidence. Movements are cinematic and smooth with no issues coming form motion blur or jitter.
Black Levels: Blacks are deep and flirt close to a natural level. Details like eyeshadow makeup brush strokes, patterns, textures and the like are still discernible in the darker areas of the frame, shadow or the nighttime. No crushing witnessed.
Color Reproduction:  Colors are plenty gorgeous and have great saturation. Whether the clothing pops or is a bit dingy, they looks quite lovely and lifelike. Some upholstery, drinks, jewels and clothing really does have a nice pop to them.
Flesh Tones: Skin tones are natural and consistent start to finish with no dangers of flicker or anything like that. Facial features and textures are quite discernible a clear from any given distance.
Noise/Artifacts: Clean.
Audio
Format(s): English 2.0 Mono DTS-HD MA
Subtitles: English
Dynamics: The Curse Of The Werewolf comes with likely its original mono theatrical mix out of 2 channels. Its a solid mix, finding itself pretty engaging and loud, though lighter on the lower frequency sounds. Special effects sound have good impact and the balance of the score, vocals and effects seems quite even. A plenty satisfactory track.
Height: N/A
Low-Frequency Extension: N/A
Surround Sound Presentation: N/A
Dialogue Reproduction: Vocals are clear and crisp. Really nice clarity as it some decently pronounced with little analog hiss or distortion from the source.
Extras
The Curse Of The Werewolf – Collector's Edition comes with reversible cover art featuring the original poster design.
Audio Commentary
With Actress Yvonne Romain and Special Effects Artist Mike Hill
With Author/Film Historian Steve Haberman and Filmmaker/Film Historian Constantine Nasr
The Men Who Made Hammer: Roy Ashton (HD, 19:12) – Richard Klemensen discusses the Hammer make-up effects genius. Klemensen goes over what he know personally from Ashton as well as a lot of Hammer and studio business stuff of the times. And it does focus a nice bit on The Curse Of The Werewolf, which is a nice touch.
Serial Killer: Benjamin Frankel, Serialism And The Curse Of The Werewolf (HD, 21:52) – David Huckvale takes an intricate dive into the film's composer and score. He's sitting at a piano, so he's able to give some nice examples which are cut in with clips from the movie and excerpts from the score.
The Making Of The Curse Of The Werewolf (HD, 46:11) – Mike Hill, Catherine Feller, Yvonne Romain, Margaret Robinson, Jimmy Sangster and some archive audio interview clips from Oliver Reed gives us an anecdotal history on the making of the film.
Lycanthropy: The Beast in All Of Us (HD, 3:28) – Mike Hill and Catherine Feller discuss the difference between werewolves in movie and lycanthropy in real life which is more a disease of the mind and not a physical change. An interesting topic all too briefly gone over in this short featurette.
Censoring The Werewolf (HD, 13:48) – Jonathan Rigby, Kevin Lyons, Steve Chibnall, John J Johnston and Denis Meikle discuss some the more risky, themes in the script and scenes from the movie that were altered or cut because of being too much for the times. It appears the film was heavily compromised in post production for its theatrical release (Which isn't the cut we see on this disc).
Trailers From Hell: The Curse Of The Werewolf (HD, 2:37) – Jon Landis speaks over the trailer, that he comments on the quality of the print a few times, while he praises and discusses the film and trailer (Which is from Joe Dante's collection).
Theatrical Trailer (HD, 1:51)
Radio Spot (HD, :28)
Still Gallery (HD, 3:30)
Summary
The Curse Of The Werewolf is the werewolf or Hammer at its best, but is still plenty an enjoyable effort. Speaking of enjoyable efforts, Scream Factory has really put together a hell of a package for this one. With the beautiful new transfer and loads of extras old and new, this is one of their most complete and wealthy Hammer releases to date.
This is a paid Amazon Associates link