September 18th, 2022 by Brandon Peters
Being a horror fan and disc collector, September and October become exciting times for new releases and upgrades and struggling times for my wallet. Even the big studios get involved with their catalog this time of the year. Its the trendy thing to cash in on. Warner Bros is doing that and will be updating Joel Schumacher's The Lost Boys with a brand new 4K transfer and and update on the its audio codec as well. The official release date is September 20th, coming out from Warner Bros alongside the Poltergeist debut on 4K Ultra-HD. You can order yourself a copy by using the paid Amazon Associates link that follows the review at the bottom of the page.
.
.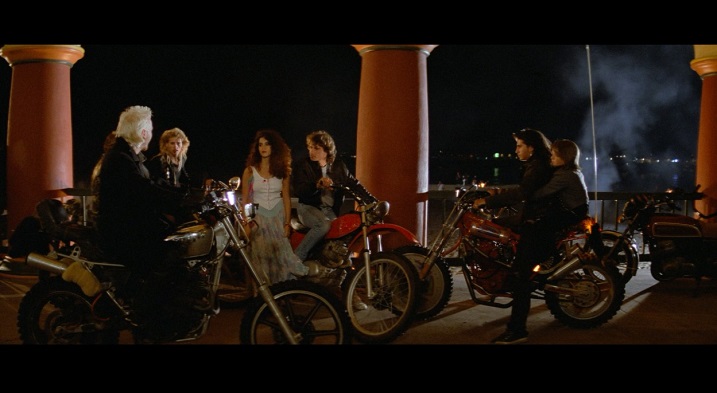 Film
Teenage brothers Michael (Jason Patric) and Sam (Corey Haim) move with their mother (Dianne Wiest) to a small town in northern California. While the younger Sam meets a pair of kindred spirits in geeky comic-book nerds Edward (Corey Feldman) and Alan (Jamison Newlander), the angst-ridden Michael soon falls for Star (Jami Gertz) — who turns out to be in thrall to David (Kiefer Sutherland), leader of a local gang of vampires. Sam and his new friends must save Michael and Star from the undead.
The Lost Boys lies in a great sweets spot of being many things other than just horror vampire lore. Its a wonderful pop culture time capsule of style and music. There's a terrific little teen coming of age movie in here as well. What draws people in to The Lost Boys is the horror angle, but what has made it a staple over the years is the characters, the dialogue and the scenes that are basically a horror twist on a teen comedy/drama. You just get it dipped in horror ranch and makes it a little more fun.
I'm not sure I'm going to add anything new to the conversation here with The Lost Boys. However, I did decide to do an experiment with it. I showed it to my 10 year old son and 8 year old daughter. My son has been diving into horror over the past year with films of various eras and intensities. My daughter has had things much lighter and had not seen a rated R movie before. But, I figured this one is close enough to PG-13 that she would be fine with it. I was wanting to see how they'd take to this one, in terms of the characters and whatnot, as I knew they'd both dig the vampire stuff.
Turns out, this one is timeless in my house – they both LOVED the movie. My daughter said her heart was racing during many a scene, but loved that feeling. My son thought the Frog brothers were awesome. They both were very WTF with the ripped sax man at the beginning of the movie. And this entire weekend, they've been quoting the film all over the house. My daughter has told me that "you're eating maggots, Michael" every time we've sat down to eat. One of their funniest observations was "I can't get over how much that main vampire guy looks like the lead singer from Imagine Dragons!" Sorry Kiefer!
But that seems to be the fun and key element that Joel Schumacher tapped into with this film. He's made a some better films in his career, but this early one may be his most universally popular. Its the one where everybody attached themselves to some character, ran "death by stereo!" into the ground and now share memes about the sax player. The Lost Boys has worked for generations starting in the 1980s all the way to today.
Video
Disclaimer: Screen captures used in the review are taken from the standard Blu-ray disc, not the 4K UHD Blu-ray disc.
Encoding: HEVC / H.265
Resolution: 4K (2160p)
Aspect Ratio: 2.39:1
Layers: BD-66
Clarity/Detail:  The Lost Boys makes its debut on 4K Ultra-HD Blu-ray with a terrific an lovely looking new transfer. The image really improves in the black department with much improved saturation and contrast, bringing out better reads on the color. Its a crisper picture with plenty more information, texture and pattern now made visible from higher resolution.
Depth: Depth of field is quite strong and really opens up the scale and bigness of the film. Grandpa's house is huge inside and out and many of the overhead flying sequences look pretty breathtaking now. Movements are filmic and natural with no issues occurring from rapid action or camera swings causing jitter or blur.
Black Levels: Blacks are deep and at natural levels in the image. This is where a lot of improvement comes, showcasing great shadow work and contrast to help the colors really pop. No crushing witnessed.
Color Reproduction: Colors are quite strong here and pop nicely with the contrast. Many of the more 80s stuff stings out well, primarily in the video store scenes. Neon signs and such really radiate from the HDR applied to the picture.
Flesh Tones: Skin tones are natural and consistent from star to finish of the film. Facial features and textures are clear as day from any reasonable distance in the frame. Vampire/gore make-up holds up to any 4K scrutiny that may occur from being a finer looking image.
Noise/Artifacts: Clean.
Audio
Audio Format(s): English 5.1 DTS-HD MA, French, German, Italian, Spanish (Castilian), Spanish (Latin American)
Subtitles: English SDH, French, German SDH, Italian SDH, Spanish (Castilian), Dutch, Spanish (Latin American)
Dynamics: The Lost Boys carries what is probably the same mix, but now under the 5.1 DTS-HD codec and not Dolby TrueHD. Its a nice little lossless experience that is loud and provides quite an engaging spot when watching. Its well balanced, with some impressive layering and depth to make you really feel a part of the environments and action.
Height: N/A
Low Frequency Extension: Some solid bump coming form the subwoofer in punches, kicks, engines humming, glass shattering and musical stuff like drums and bass.
Surround Sound Presentation: While only utilizing 5 channels, this mix does really prove a solid force around the room. Unique sounds and outstanding ambiance come from the rear channels. Movement goes around the room with accuracy and sufficient power.
Dialogue Reproduction: Vocals are clear and crisp.
Extras
The Lost Boys comes with the remaster standard Blu-ray edition and a redeemable digital code. Aside from the Audio Commentary, all bonus materials are the previously released ones found on the regular Blu-ray disc.
Audio Commentary
by Director Joel Schumacher
The Lost Boys: A Retrospective (HD, 24:00)
Inside the Vampire's Cave (HD, 18:49)
Vamping Out: The Undead Creations of Greg Cannom (HD, 14:02)
Haimster & Feldog: The Story of the 2 Coreys (HD, 4:41)
Mult-Angle Video Commentary by Corey Haim, Corey Feldman and Jamison Newlander 
A World of Vampires (HD, 14:02)
The Lost Scenes (HD, 15:16)
"Lost in the Shadows" Music Video by Lou Gramm (HD, 4:34)
Theatrical Trailer (HD, 1:24)
Summary
The Lost Boys is a vibe, an experience and a lot of blood sucking fun. Warner Bros has lovingly restored the film for its 4K Ultra-HD Blu-ray debut, improving upon the Blu-ray disc that's been going around since 2008 in every way. All of the boatload of extras are kept intact here as well. Its an easy and worthwhile upgrade for fans, horror aficionados and collectors.
This is a paid Amazon Associates link