November 20th, 2022 by Brandon Peters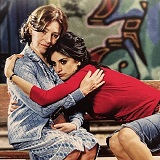 In the 1990s, independent films were on the rise and studios like Miramax were at the forefront of distribution. Many studios created a separate wing to focus on and gather the independent, documentary, art house and international films under a single banner away from the blockbusters and bigger star studded fare. Sony Pictures developed Sony Pictures Classics for this very reason in 1992. And for the 30th Anniversary of the studio's formation, they will be putting out a 4K Ultra-HD box set with 11 films from the course of their history, including 10 that are making their debut on the format. This review will be covering Pedro Almodóvar's 2006 film Volver, which landed Penélope Cruz her first Academy Award nomination. You can order yourself a copy of this impressive box set, which would make a fantastic gift for that special cinephile in your life, using the paid Amazon Associates link below.
Film
Raimunda (Penélope Cruz) works and lives Madrid with her husband Paco and daughter Paula. Her sister Sole (Lola Dueñas) lives nearby and they both miss their mother Irene (Carmen Maura), who died several years ago in a house fire along with their father. A former neighbor from their hometown reports that she has seen the ghost of Irene and both daughters do not believe her. After a murder and a family tragedy, Irene's spirit materializes around her daughters to help comfort them.
One of the best actor director / actor team ups we have still going for us today is Pedro Almodóvar and Penélope Cruz. And in 2006, they delivered one of their most celebrated films in Volver. Its pretty notable as it landed Penélope Cruz her first Oscar nomination for Best Actress. The film certainly could have loaded up and been nominated (and surely decorated) with more. One look and you'll see it was a stronger year all around.
Almodóvar's film does that sort of Hitchcock thing he's very good at, where he presents and showcases elements of suspense and unease into a film who's dynamic and overall vibe is not that of a horror or thriller picture. There's a segment here early on to set everything up that is very much a Norman Bates scenario of Psycho where we watch someone clean up a scene and secretly are hoping they don't get caught in the process. Pedro is an expert at knowing how to tell a short story within a story, those moments having its own unique score to go along with it. You'll even see this sort of thing in his most recent film Parallel Mothers. Its an uncanny effect and he seems to be the only person doing it and he's quite amazing at it.
Penélope Cruz is quite masterful here as one of our best living performers. This character here is fully realized and she's entirely consumed by it from moment to moment and every single frame. As the film's script unravels and secrets become revealed, not only is the way she handles the given deliveries but how you realize she had been prior and that it all works out is insanely impressive. Returning to the film now, its still impressive and a powerhouse. In the year of this film's Oscar contention, she was my personal choice and hopeful and I still hold to that to this day.
Volver is a master stroke and one that should be much more remembered and required viewing for those really into film and filmmakers. Its a loaded movie with A LOT going on in it. From the thriller aspects, the stylish aesthetic, character work, potential ghost story things and more it really is a tour de force. We are currently in the stretch of maybe my favorite three films in a row in this set and this would be the super capper to it. Not that what comes after is anything less than awesome, but for me the Run Lola Run, The Devil's Backbone and Volver stretch of "watching in a row" is the apex.
Video
Disclaimer: Screen captures used in the review are not from the 4K UHD Blu-ray disc and do not represent its image quality. They are also not of my own capturing. If you feel they are yours and you do not condone their usage, please contact the site and we will have them removed. 
Encoding: HEVC / H.265
Resolution: 4K (2160p)
Aspect Ratio: 2.39:1
Layers: BD-100
Clarity/Detail:  Volver is a film I was very looking forward to in this set as it was released during one of the earliest years of Blu-ray. Originally it had a MPEG-2 encoding. Now we are here on 4K and the transfer is lovely with much improved clarity, a visible layer of grain, great color saturation and details running even more rampant. Its a vivid, more vibrant picture but the colors are able to show restraint and don't bleed off of the screen.
Depth: Depth of field is quite strong as there are some wonderful instances of distance via pushback in apartment interiors as well as corridors and the restaurant. Character movements are smooth, filmic and have no issues that derive from rapid camera or character movements causing blur or jitter.
Black Levels: Blacks are very impressive with their natural tones and craft some excellent shadow and nighttime sequences. Cruz herself have some lovely instance with her hair and her eye liner. No crushing witnessed.
Color Reproduction: Colors pop pretty lovely in the film. The fabrics on display are gorgeous and the vibrant colors are well saturated and showcase some impressive looks. Reds, purples, greens, yellows and more just make love to your screen.
Flesh Tones: Skin tones are natural and consistent from start to finish of the film. The facial features and texture clarity in any frame is quite incredible. Every freckle, wrinkle, dried blood, blemish, make-up stork, lip texture and more is clear and visible.
Noise/Artifacts: Clean.
Audio
Audio Format(s): Spanish 5.1 DTS-HD MA
Subtitles: English, English SDH
Dynamics: Volver appears to have transported over its 5.1 track from the Blu-ray but presents it under better capabilities. Its a well balanced mix with effective vocals. Effects have some nice layering and depth to them.
Height: N/A
Low Frequency Extension: The subwoofer handle drum and bass in the score as well as some foley effects like doors shutting and engines humming with solid force.
Surround Sound Presentation: Rear channels do provide some unique contributions but also build a wonderful ambiance and account for setting a lifelike feel to it. A lot happens up front though, which carries some accurate and effect motion across the room and back and so on.
Dialogue Reproduction:  Vocals are clear and crisp.
Extras
Volver 4K Ultra-HD Blu-ray comes only as a part of the Sony Pictures Classics: 30th Anniversary Collection.
Audio Commentary
with Director Pedro Almodóvar and Actor Penélope Cruz
Interview With Pedro Almodóvar (HD, 10:12)
Interview with Penélope Cruz (HD, 5:31)
Interview With Carmen Maura (HD, 8:25)
Making Of Volver (HD, 7:56)
Tribute to Penélope Cruz (HD, 18:11)
Photo Gallery (4K, 1:33)
Theatrical Trailer (HD, 1:40)
Summary
Volver is a fantastic character/family drama that offers an incredible segment of suspense to boot. Its an enrichening movie that definitely is ripe to revisit or check out for the very first time. Sony debuts it on 4K Ultra-HD Blu-ray for the first time with a beautiful new restoration and transfer to go along with carrying over the old extras and a couple other archival pieces. It is currently only found in the Sony Pictures Classics: 30th Anniversary Collection and is one of the prime reasons to grab it.
This is a paid Amazon Associates link