September 25th, 2021 by Brandon Peters
The 1970s were not short on films serving as character studies of some of the more ruthless individuals. The anti-heroes as we like to call them. 1978 saw Dustin Hoffman playing an ex-con freshly released from prison who just couldn't keep away from the people and the life in Straight Time. As heralded as the film was upon release (Roger Ebert's top film of that year), it seems to have drifted far from the conversation in terms of classics and films to study from the cinematic yesteryear. Judging by it finally coming to Blu-ray in 2021, that basically confirms its importance in the studio catalog. No matter, Warner Archive Collection is finally putting out the film. It was released on Blu-ray on September 21sth. In addition to an upgrade in sound and picture quality, the disc also features a commentary from Dustin Hoffman and the director. You can order yourself a copy to own (You really should check this one out) from the paid Amazon Associates link below the review.

Film
A career criminal, Max Dembo (Dustin Hoffman) is determined to go straight after his latest stint in prison. He takes a mindless job in a cannery, patiently endures the abuse of his pompous parole officer, Earl (M. Emmet Walsh), and begins a romance with a sympathetic girl from the employment office, Jenny (Theresa Russell). But when Earl erroneously busts Jack for drug abuse, the ex-con cracks, assaulting Earl and setting off on a reckless crime spree.
Following troubled individuals is quite a normal thing nowadays through film and television. We think of Tony Soprano, Walter White and many others without blinking. The 1970s were the hey dey of pioneering this material. The big purveyor of this was Michael Corleone when The Godfather saw massive success at the start of the decade. Those were the roles big time actors would seek out and hope to see a golden Oscar reward from later on. Dustin Hoffman took to this with Straight Time, playing an ex-convict who cannot keep himself from the life once he leaves prison. A film he tried to direct, reports say he stepped down after one day.
Hoffman plays Max Dembo pretty relentlessly. The script and his performance make no excuses for his behavior. There is no "Oh, that is why he does this" excuse that would be built into a film nowadays. We see him try to force himself back into civilization in the first act, but we can see in Hoffman's eyes, his facial gestures and body language that he's merely doing his best to restrain himself as its only a matter of time before he can't hold on any more. Its crazy to think he wasn't nominated for this film (His co-star in this, Gary Busey, was for The Buddy Holly Story), but a quick look shows it was a very tough year. Maybe in hindsight you could leap frog him over a couple, but those awards are made in the moment.
One of the things the film really does well is showcase crime, theft and heists as a sort of addiction. There are drugs on display in the film, but that's merely a nod to showcase something bigger. Through Dembo and his friends he reunites with along the way, the all get the itch when they are around each other. They are all fronting to society that everything is fine, but they cannot kick their addiction. Kathy Bates' character makes a warning early on to Dembo that foreshadows and serves as a thesis on how this kind of thing plays out. Once they all start up, they can't stop and it becomes worse than it ever was before.
In addition to some great drama and character deconstruction, the film features some great suspense and low key action bits. There are plenty of unique, lifelike and very grounded chases and heists in the film. Much of this on top of the characters were reminding me of the 1981 film Thief from Michael Mann. Low and behold, when researching more on this film, I found that Mann did an uncredited rewrite for this film. Thus, this movie is very much like a proto version of his film Thief.
Before this review, I had never seen 1978's Straight Time. And in glorious fashion, it has been a wonderful "new to me" discovery and a new favorite. I loved everything about it. From the performances, the pacing, the glorious style and 1970s aesthetic to the terrific script. There's a lot to love here and its a fine example of why the films of the 1970s were so great and are still highly regarded by all of us film snobs. If you've never heard of or seen Straight Time (And I'll toss this in, if you liked Thief for more than just the style), its a pretty high recommend from this reviewer.
Video
Encoding: MPEG-4 AVC
Resolution: 1080p
Aspect Ratio: 1.85:1
Layers: BD-50
Clarity/Detail:  No details are provided regarding the transfer of Straight Time's debut on Blu-ray. At worst this has to be a 2K transfer of the film. And its a beautiful looking transfer with great color saturation, sharpness and details. There's a good, healthy layer of grain that showcases a lot more depth and texture for the frame. All in all, Straight Time really looks terrific and feels like you're watching a pretty pristine 1970s film print.
Depth:  Depth of field is very solid in the film. Many of the interiors, including sitting in a car showcase all sorts of space and pushback. Scale in exterior city scenes and inside factories make things look rather big. Motion is smooth and has no issues with an sort of distortions from rapid movements.
Black Levels: Blacks are deep and close to natural levels. No information is hidden. Details are discernible in the darkest shadows, surfaces and hair follicles. No crushing witnessed.
Color Reproduction: Colors are natural and have a really nice, natural palette. There's some basic boredom scenarios around, but the pop really depends on clothing, upholstery or the setting. For example, Harry Dean Stanton's home out back with the pool really jumps out, while some of the earlier more office stuff is a bit mute and more door (But very lovely in that 70s aesthetic).
Flesh Tones: Skin tones are natural and consistent from start to finish. Facial texture and information is very impressive. You can clear as day make out stubble, pores, wrinkles, sweat, make-up touches and more from any medium and close up shot.
Noise/Artifacts: None
Audio
Audio Format(s): English 2.0 Mono DTS-HD MA
Subtitles: English SDH
Dynamics: Straight Time features its original mono theatrical mix in lossless format. There is a base of an analog hiss beneath every scene inherent in the source. It features a good balance of vocals, effects and music that all get their time to spotlight while also never stepping on one another's toes.
Height: N/A
Low Frequency Extension: N/A
Surround Sound Presentation: N/A
Dialogue Reproduction: Vocals are clear and crisp.
Extras
A "Vintage Featurette" is mentioned on the back of the case, but is not found anywhere on this disc.
Audio Commentary
By Ulu Grosbard and Dustin Hoffman
Theatrical Trailer (HD, 1:45)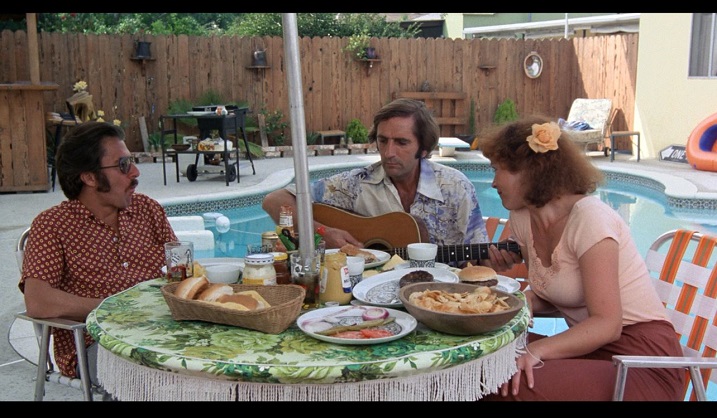 Summary
Straight Time is a nifty little character study of a troubled individual and look at the post prison sentence life of an ex-convict. Warner Archive Collection brings it to Blu-ray with a lovely looking film transfer and genuine sounding mono track. The commentary is a nice touch, but people may be disappointed that the advertised vintage featurette is not here on the disc. Though, for film quality and presentation (Plus it does have that commentary), its a swell little disc.
This is a paid Amazon Associates link