September 26th, 2021 by Brandon Peters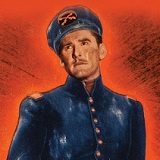 I'll probably sound like a very broken record here, but one of my favorite things to look out for in the Warner Archive monthly set of catalog releases is a new one from the filmography of Michael Curtiz. The director has a ton of movies to his name, so there is a lot still out there (Including Captain Blood, dangit!). With almost a once a month spot for him in the schedule, September has landed on Santa Fe Trail. This one is another of his collaborations with actor superstar of the time, Errol Flynn. Also appearing in the film is former President of the United States Ronald Reagan. You be able to take a beautiful, new high definition look at the film when you order it. Santa Fe Trail was released on September 14th. You can use the paid Amazon Associates link that follows the review if you'd like to do so and help out the site.
.

Film
After graduating from West Point, Jeb Stuart (Errol Flynn) and George Custer (Ronald Reagan) are both stationed to Fort Leavenworth in Kansas. Once there, they find that the violent abolitionist John Brown (Raymond Massey) has laid waste to the state, killing anyone who gets in the way of his anti-slavery crusade. While the duo must work together to battle the murderous revolutionary, they also come to blows over their competing love for Kit Carson Holliday (Olivia de Havilland).
Santa Fe Trail is a bit of an odd experience to watch, though on the technical side of things a well made and acted film. While I am fully of the belief that when a film is judged, part of you should recognize when the film was made and the pop culture pulse of the era. But, when it comes to a film like Santa Fe Trail, while decently revered in its time, probably shouldn't have been in the grand scheme of things. Granted, knowledge wasn't at their fingertips to look into after the film like myself when doing this review, but somebody during then had to have sensed or looked into something being off with this script.
Robert Buckner's script for this film is wildly full of historical inaccuracies. So much so, to the point where this could be seen as some sort of propaganda for revisionist history. Many of the events, people and places aren't when they were, who they are or how they are supposed to be. Many of these characters, real people from history, didn't know each other or even meet or even found themselves in Kansas during the time of this movie. They even pop in Jefferson Davis for a cameo part, even though he had already served his term on the position he has in this movie.
Its extremely awkward to see a movie where an abolitionist is the antagonist. And portrayed as such a vile and evil man. I don't think the movie itself is pro-slavery, but it does itself no favors in this presentation. Everyone acts as if, things are going to work themselves out and we don't need to force an end to slavery. But yet, the government is sickened and doesn't want anything to do with any of the anti-slavery essays, papers and recruitment going on. There is even a super weird moment during a battle in which John Brown (the antagonist) has some slaves freed and hidden in a barn for which the army is trying to…I dunno…stop this?…and a slave literally says "If this is what freedom looks like, then I don't want none of it". Just wild.
On a core film level, Santa Fe Trail is pretty darn pristine. Curtiz regular directing chops are in full force. The performances in this are top notch as well. Errol Flynn is pretty dynamite, and it serves as an excellent role for him. He's thrown into a love triangle scenario with Ronald Reagan over his usual pair up flame Olivia de Havilland (Guess who wins out?). Much of the camera work is impressive and its awesome to see Curtiz doing some really rich and outstanding scale in location shooting. However, the story of this film and some of the details, dialogue and inaccuracies may turn off or deter a viewer in 2021.
Video
Encoding: MPEG-4 AVC
Resolution: 1080p
Aspect Ratio: 1.37:1
Layers: BD-50
Clarity/Detail: Nothing is provided regarding this transfer on the Blu-ray debut for Santa Fe Trail. Like other Warner Archive Collection films in the Michael Curtiz catalog, its absolutely lovely. This has a really nice array of grays, whites and blacks that make for quite the looker of an image. Its got a healthy layer of grain and lush amounts of details. Its so good that I'd almost wager that there's a chance this was a 4K transfer.
Depth:  Depth of field is terrific as there's a lot of good separation of characters and objects from their backing and environment. Movement in filmic and smooth with no issues regarding distortions from rapid movements.
Black Levels: Blacks are deep, rich and almost very natural in their appearance. Plenty of details are strong as its saturation levels are pretty top level. No crushing witnessed.
Color Reproduction: N/A
Flesh Tones: Skin tones have a consistent gray/white/black blend to them and are consistent from start to finish of the film. Facial textures and details are strong from any reasonable distance in the frame.
Noise/Artifacts: None
Audio
Audio Format(s): English 2.0 Mono DTS-HD MA
Subtitles: English SDH
Dynamics: Santa Fe Trails arrives with a lossy presentation of its original mono mix. And its a loud and very full sounding little track. Its pretty clear too, with only the faintest of a analog hiss in the background. Its well balanced and features some really terrific layering and depth.
Height: N/A
Low Frequency Extension: N/A
Surround Sound Presentation: N/A
Dialogue Reproduction: Vocals are clear and crisp.
Extras
Trailer (HD, 2:13)
Summary
Santa Fe Trail is a well made and performed film with a script littered of historical inaccuracies. As every bit of fascinating it was to watch, I could see it being quite offensive as well. Film Twitter will have a field day with it if it ever gets to them. Warner Archive Collection debuts it on Blu-ray with a gorgeous looking and sounding new transfer. Extras are limited to a trailer. Curtiz collectors and WAC homies will want to pick this up, some others may want to screen it before buying.
This is a paid Amazon Associates link